DocPoint Professional Edition is a document management and imaging management solution for small businesses that deal with large volumes of paper documents, computer generated files, and email correspondence.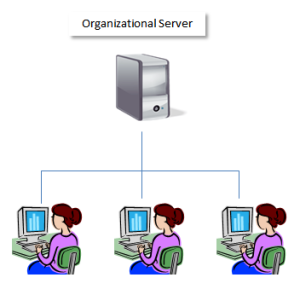 DocPoint Professional is a client server program. The Database is installed on the organizational Server and each workstation is securely connected to the server. The Users comprise a single Workgroup or Department. All users have access to the Database.
Each user is assigned a Security Level.
»   Read – Can open and read a document only.
»   Write – Can read and create new documents.
»   Administrator – Can manage the settings of DocPoint.
A built in user named Administrator assigns the user's Security Level and manages the settings of DocPoint.
Perfect for Small Businesses
DocPoint Professional Edition is a powerful and affordable multi-user document management solution, perfectly suited for small businesses. DocPoint is a flexible solution that adapts to meet multi-departmental needs while allowing users to maintain established and preferred procedures.
Feature Packed
Command a rich feature set and eliminate or reduce time spent searching for documents, misfiling, and costly paper reproduction and distribution methods. DocPoint delivers high-volume information capture, instant document and record retrieval, and seamless information distribution across the organization.
Economically Priced
Affordably priced, DocPoint Professional Edition is an economical and powerful solution for your document management requirements.
Easy Upgrade
As your business expands, you may require the Corporate Edition's additional document management features to sustain your growth. Read more about DocPoint Editions, pricing and upgrades.